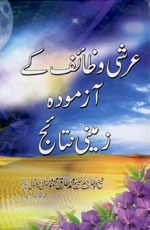 Allah almighty love the man who cause benefit to the humanity. Me and you should be useful for mankind, but how? It is possible only when you see someone facing trouble then advise him solutions so that they can fix their problems and put them on a path of benedictions (amal) as this is the best way. The way which tells how to beg to Allah. We will be succeeded if we find this way. It opens the door of blessing from heavens. A lot of people walked on this path and wrote us and also told us in Majalis Majzubi as held after Dars Roohaniat o Aman. We compiled all these stories in this book.
Dear readers! Please write us if you get benefit from this book. May almighty Allah make all of us one who cares for mankind and wellbeing of others. Do these benedictions yourself and also spread to others. It will strong the concept of surviving through benedictions, establishing through benedictions and getting protections from problems through benedictions. May Allah almighty reward you with firm belief, Amen.
Let's have a look on this book:
* A solution for insomnia. * Blessed earning through Durood Sharif. * Got healed and saved Rs.3.5 million. * Paid off loans and developed own business. * Blessing in the home and business.