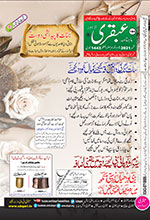 Ubqari Monthly Magazine, September 2021, Special Edition
If Ubqari is in the heart, then life is pleasurable!
A great courtesy of Allama Lahoti on humanity!
Love God's Creation and share their sorrows and pain…. Allah (The Great and Glorious) will love you and protect you from troubles, difficulties, afflictions, and sorrows. Today where problems are being discussed at private and international levels. There, Ubqari is devoted/working day and night to solve these problems without any greed. With these efforts, for creation wretched, troubled and entangled in hardships…. Ubqari Monthly Magazine, September 2021 Issue is bringing a hidden secret of a Sahabi Baba (Companion of Prophet Muhammad S.A.W) with a name of 'Miraculous Spiritual/ Ethereal Amulet' (Lahoti Naqsh) … The benefits of this amulet are beyond anyone's imagination. Come! Let's take a look at some of the wonders of this Spiritual Amulet (Naqsh).
- Get rid of sorcery, evil spirits, dangerous black magic spells/witchcraft, and severe evil eye forever!
- Don't even want to look at your wife, disagreements between spouses, strained relations, indignation, divorces, domestic disputes…Just bring the Miraculous Spiritual/Ethereal Amulet (Lahoti Naqsh) and get Marital Bliss!
- Despite the effort, couldn't find the proposal for your daughter? Children's hairs are turning white…. Counter every closure/cessation with Miraculous Spiritual Amulet (Lahoti Naqsh)!
- Despite the hard work, not getting a job promotion? Come! Miraculous Spiritual Amulet (Lahoti Naqsh) is giving you a chance!
- Why children are lacking progress in the educational field? Bring Miraculous Spiritual Amulet (Lahoti Naqsh)! And see your children's progress!
- Those whose babies die after birth (neonatal deaths) or Infertility for years will come to an end! Only in this Issue!
- Evil spirits have made it difficult to live in the house! Then curb the evil spirits with the Miraculous Spiritual Amulet (Lahoti Naqsh)!
- Men and women who are infertile or sterile! Do friendship with Page no 41 of this Issue!
- Facing failures everywhere! Gold becomes mud! Just change your destiny with this Issue!
- Live a life of your choice in your In-Laws house! It is possible with the Miraculous Spiritual Amulet (Lahoti Naqsh)!
- Splendidly uplift your day-by-day declining business!
- What if you don't get rid of the envious? Don't worry!
- So much sustenance that even generations can eat without an effort!
In addition, the Miraculous Spiritual Amulet (Lahoti Naqsh) containing innumerable spiritual and physical benefits is tested by the Djinns' world for centuries. With special permission…With special spiritual concentration/ alignment … The benefit is proportional to desire…. Take it yourself and also inform your friends so that no one remains deprived of this amulet!
- Just drink this Qehva/beverage! Ulcer, Diabetes, Cholesterol, and Uric Acid will be cured!
- Meet the Dervish of a Desert! Who will give you a successful formula to become wealthy!
- Drink this water if you want a definite increase in height!
To obtain so many benefits, can't you spend 50 Rupees?
The price is Rs. 50 only excluding postal charges.
How can people living abroad order the magazine?
People living abroad can get the annual membership/subscription of the magazine from Ubqari Centre. Membership charges are USD 64 annually. Ubqari Magazine will be delivered to your home every month after the membership/subscription is confirmed. In sha Allah! (By the will of Allah!)
(Note: You will have to pay annual membership/subscription charges every year).
To get membership, text us your name, complete address, and two phone numbers on our WhatsApp number.
03327552384