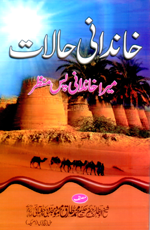 Must read this book if you like to know about the family tree of Hazrat Hakeem Sb Damat Barakatahum, their services, perfections, high places and wonders with strong references. As you will go through its contents you will learn that how relations with elders give benefits to masses even after centuries.
Let's have a look on the book.
Family relations with Hazrat Ali Hajveri (RA), Grandfather and the spirit of serving the humanity, A strange wonder: the revelation of the death, Haji Wali Muhammad Chughtai (RA) in the eye of Nawab of Bahawalpur, Great Grandfather would meet the demand of every seeker, Friendship between Grandfather (RA) and Allama Iqbal (RA), They are not Chughtai rather Chogha Zai, The Grave releases fragrances even after several months, I taught several djinns, many are still studying, When Nawab of Bahawalpur toches the feet of Grandfather (RA), I want a son, he prayed for me and I got a son, Hakeem Sb is the son of big elites, Distinguishing between Halal and Haram and the peak of generosity, Chughtai Family: one of its kind in generosity, Do you know who was your great grandfather?, A family in trading, agriculture and Hikmat, A detail description of Chughtai Family in Greater Bahawalpur, The Social, Academic and Religious services of Chughtai Family, Your grandson will enlighten millions of hearts, Khawaja Ghulam Fareed (RA) would pay respect to my Great Grandfather (RA)
Note: every chapter has been supported with reference in footnote.
Price: Rs 150 Excluding Postal Charges