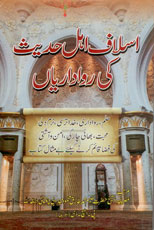 The Tolerance of Elders of Ahl e Hadith
Islam is the religion of peace. It teaches us to love to Allah, Prophet Muhammad ﷺ, and love to all humanity. This is the religion of brotherhood instead of enmity. Islam becomes a light when the darkness of heat was spread everywhere. A hadith narrates that the great act for Allah is to love someone for the sake of Allah. This may also include sending greeting to others i.e. offering Salaam and praying blessing for your brother. The lives of our elders were full of tolerance, love and spirit of desiring good for all. They would offer Salat with each other or behind other's Imam. Hazrat Maulana Ahmed Ali Lahore (RA), Hazrat Maulana Syed Dawood Ghaznawi (RA) would go the meeting together. Both of them offer Salat in the Imamat of each other. Our ancestors would join hands with each other and understand the mode of each other. The daughter of Hazrat Maulana Ahmed Ali Lahore (RA) was married to an Ahle Hadith Aalim. The grandsons of Hazrat Lahore (RA) are still spreading Quran and Sunnah in the United States. Similarly there are several families who belong from different sect of thoughts but enjoy relationship with each other. Hazrat Mufti Muhammad Hussain Naeemi (RA) Administrator Jamia Naeemia belonged to Barelwi sect but was a balanced and loving person. Whenever, there was a dispute surfaced in Lahore city, he became a bridge of love between the two sides despite the fact he had to sustain taunting from his own sect. Hazrat Khawaja Muhammad Zia ud Din (RA) Sajjada Nasheen Sial Sharif is known as a glorious scholar from Chishtia Nizamia chain. Once he was invited in Dar ul Uloom Deoband. Teachers and students welcomed him at the railway station. Sheikh ul Hadith Maulana Anwar Shah Kashmiri (RA) announced holiday. He was offered to sit on Maulana Anwar (RA) seat and was requested for pray. Sheikh ul Tafseer Hazrat Maulana Ahmed Ali Lahore (RA) would invite you apart from other religious scholars. Our history is filled of such incidents which encourage us to promote the environment of love and peace. Let's be a source of joining the Ummah instead of breaking it. It is pertinent to mention here that there is no harm if there is a logical difference on religious matters. The best way to solve such problems is while maintaining the environment of peace and love. This book is like a small effort which was carried out by swallow at the event of Hazrat Ibrahim علیہ السلام. It is an effort to spread the thread and needle in the time where scissors are mostly used so that the Ummah can be kept joined. The basic object is to kill the hate while maintaining the logical difference. May Allah almighty let this book a source of joining the Ummah and erase the internal hate and reward us with success. Amen.
Below are a few glimpses of said book:
* Good dealing with one who abuses. * good behavior and peace. * The respect and honor of Hadith. * Guiding through dream.