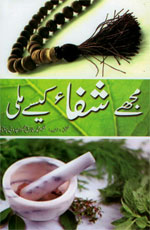 Mujhey Shifa Kesay Mili?
How Did I get healed?
We are receiving several letters and telephone calls ever since this book is published. We are printing only of the letters:
" I am the older reader of Ubqari magazine. Earlier I would read different other magazines but ever since I started Ubqari I quite all others. I found it in the mosque along wither other old sacred papers are kept. As long as I read it I got surprised as it suited to my choice and then I was a regular buyer of it. There was announcement of publication of its special edition. I decided to buy it but I found a fabric pouch at my pillow. When I opened it I found the special edition. I was surprised. I asked with my wife that where did it come from. But she also did not know. The I read the special edition. It was really interesting and useful. It was known that people don't share their experiences with others, but this edition proved it wrong. I tried different benedictions and prescription and found them useful. Then I brought some copies and distributed to several people. All of the praised it. In fact this edition has worth to be kept in the home. But I was still worried as how did this edition came to my home. Eventually, one night I saw my deceased mother in dream. She was a pious lady. She asked me not to be worried. She told me that this special edition was brought to me through a specific benediction الملک القدوس المکتبر which I would recited uncountable throughout the day. She told that some pious djinns have bought it from Ubqari office for you. Its source is not haram but halal. It is not stolen but bought. And Ubqari and this edition is also read by djinns.
Hakeem Sb! Then I realized that where did this edition come. I am thankful to you that you printed such a useful magazine. I got from it which I could not get from my previous fifty seven years' experience. I am 72 and am ex professor of physics in a university. I do medical and spiritual practice, as it's our ancestor's profession".
This book is deep see of strange things. The special edition of Ubqari "Mujhey Shifa Kesay Mili" has got admiration from many people. The reason is that it contains valuable experiments and observations. Let's have a look on it:
* We were occupied by djinns, then we got rid of them as we recited a few words. Page 19. * How rapidly eyelashes grown through an easy tip. Page 53. * Make your hairs silky and strong in a way that these may not become harder again through an easy tip. * Remove acne, stains forever through three easy ways. * Read the secret spiritual benefits of اَلْحَسِیْبُ and fix your domestic problems. * Find some useful ways to get rid of optical from an experienced man. Page 79. * Control high blood pressure through small cardamom. Read and pray for the writer. * Cure for incurable diseases by a tested act of a few minutes for eleven days. * Open blocked heart valves through sundh, black pepper and honey. * Fix your financial and business problems through a benediction. Also useful for litigation etc. * Write just 14 words to cure black magic and experience by yourself. Get wealth for you and your seven generations through a twenty one days light benediction. Solve domestic problems, internal differences and defiant children. A medics shares his secrets for treatment of different diseases. You will surprise while reading his experiments.
Dear readers! This is the glimpse of just a few pages. You can find the valuable experiences of pious men as they contributed to Ubqari. This book was published in thousands numbers and finished. Now it has published again. Book your copy today.