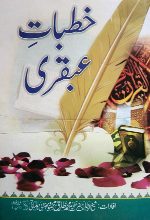 Ubqari Lectures (Volume VI)
Dear Readers!
This 470 pages book contains valuable information about spirituality and knowledge to Allah almighty. You can offer prestigious prayers, become king of world of spirituality, can have opportunity to recite Kalma at the time death, connection to Allah almighty, can have treasure of spirituality and light and knowledge of Allah almighty through this book. It was an older demand from readers to compile the lectures (dars) of Hakeem Sb in a book as these contains on one hand preparation for the life after death, pearls of knowledge of Allah, benediction and on other hand offer solution of domestic problems in a convenient way. After successful release of Khutbat e Ubqari Volume I to IV, we are presenting Khutbat e Ubqari Volume V.
Dear Readers! Though every lecture, every page and every point is valuable said volume has been compiled after due care. You would like it indeed. Find the solutions through spiritual tips of your problems of all kinds in this book e.g. domestic problems, economical challenges, domestic dislikes, matrimonial hurdles, marriage and business problems, magical impacts, incurable and curable diseases etc.
Let's have a look on this book:
* Secret of superb fitness. * Way of getting prayers. * Act of three nights. * End of an arrogant. * Way of love. * Genesis secret. * Tension free life. * Cure for temptation. * Secrets of Universe. * Cure from glows. * Making a home is not so difficult. * A best way to get benefit from Surah Kausar. * Cure for Diarrhea. * Get your wishes fill. * Problems solving through Zam Zam. * Cancer treatment through donation. * Getting reward for your relation with Allah. * War against devils through benedictions. * Praying for Ummah is also generosity. * Music a path to mental disorder. * Crying … a big blessing. * A reason behind being negligence.
Dear readers! These are the highlights of a few pages. You can imagine the whole book may contain a lot of pearls. Only a true appreciator may realize it. Get it and go through it and find the solutions of your spiritual and domestic problems, Insha Allah. So what do you think now?