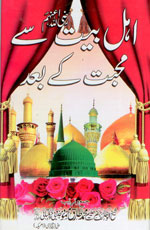 Loving the family of Prophet ﷺ is part of our faith. In fact a heart has no love with Prophet ﷺ if he has no love for his family. We are publishing a column titled "Manaqib Ahl e Bait Athar ؓ . This column describes Ahadiths in the honor of Honorable Family رضوان اللہ علیھم اجمعین. We compiled all this text in this book to keep this love with Honorable Family رضوان اللہ علیھم اجمعین alive. May Allah let's love and respect all of them and let's follow their recommended path. Amen. As if our heart is without their love then we have nothing with us.
Below are glimpses of said book:
* Love to all mankind. * The most true human in the world. * Those who love Hazrat Ali ؓ . * Their talks is also prayers ….