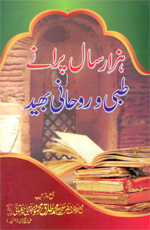 Medical – Thousand years old medical and spiritual secrets
We find several spiritual and medical secrets around us but don't give them importance until we see others or us have got benefit from them. Sometime, a few words contains the reality of life change the way of thinking. Similarly, a small medical tip heals against several diseases. Hundred of thousands people tested these secrets when printed in Ubqari magazine. A small benediction and medical tip changed the lives of several people. Those who got benefit from these small tips are still surprised. We received several incidents, true stories and experiments that let us know that how the big problems were solved and got cured using such small things. Several solved their problems using a small benediction. This unique book contains all such secrets which may fill your life with pleasures but also helpful for your generations. The thousands years older tips mentioned in this book are tested by famous medics, and elders. These secrets traveled from one generation to another generation. These thousands of tips and benedictions are easy to recite and do but have great in efficiency. You will find thousands years old heart touching saying by prophets, their companions, saints and famous scholars. Surely it is a great pleasure for me to unearth these thousand years old secrets. I would request the readers to write us the benefits which you may get after reading and utilizing this book.
Looking forward to your experiments,
Please book your volume today.